Kew Gardens, located in south-west London, is an UNESCO World Heritage site with one of the most diverse collections of living plants of any botanic garden in the world. The Kew Orchid Festival is Kew Gardens' popular annual event which features vibrant horticultural displays showcasing a country's unique wildlife and plant diversity.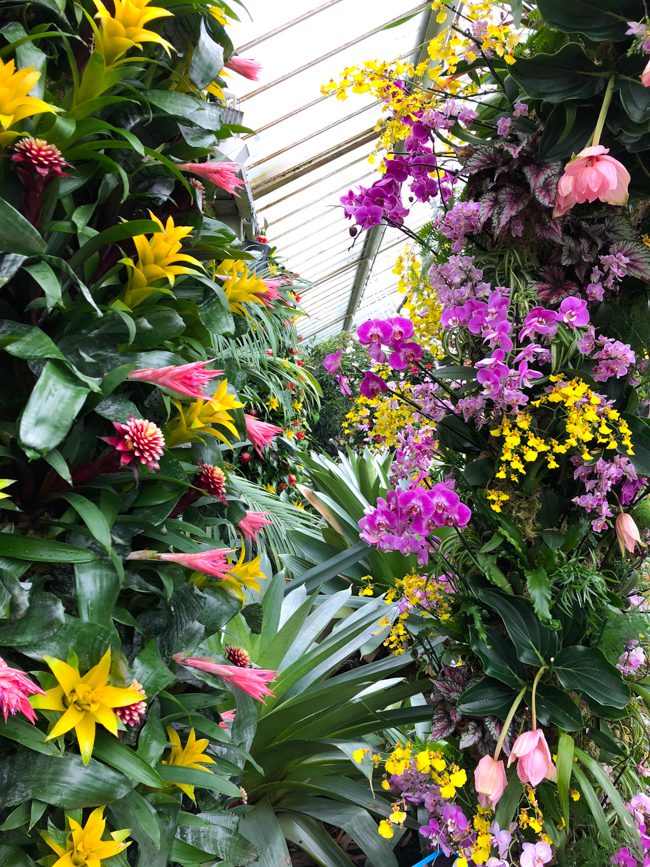 For over 25 years, Kew Gardens has put on the Kew Orchid Festival during February and March, each year celebrating a different country's biodiversity. Over recent years, the country themes have featured Costa Rica, Thailand, Colombia and Indonesia.
When is the Kew Orchid Festival 2023?
The annual Kew Gardens Orchid Festival is running from 4 February to 5 March 2023. This year, the Kew Orchid Festival is inspired by the beauty and biodiversity of Cameroon.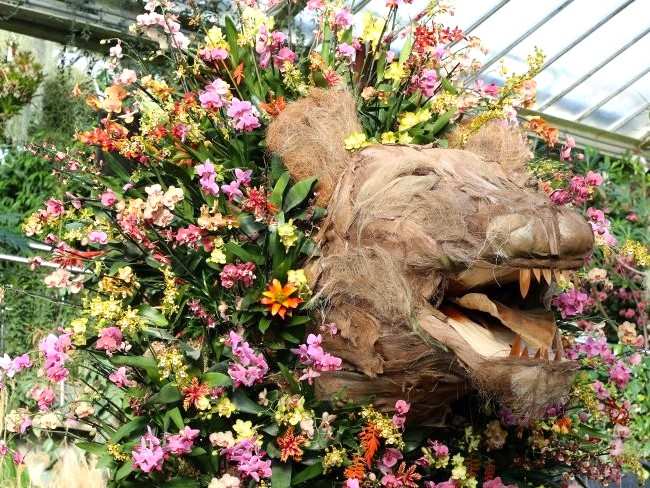 Princess of Wales Conservatory
The Kew Orchid Festival takes place in the Princess of Wales Conservatory, which is a glasshouse with 10 different climate zones under one roof. The two major climates taking up the majority of the building are dry tropics and wet tropics.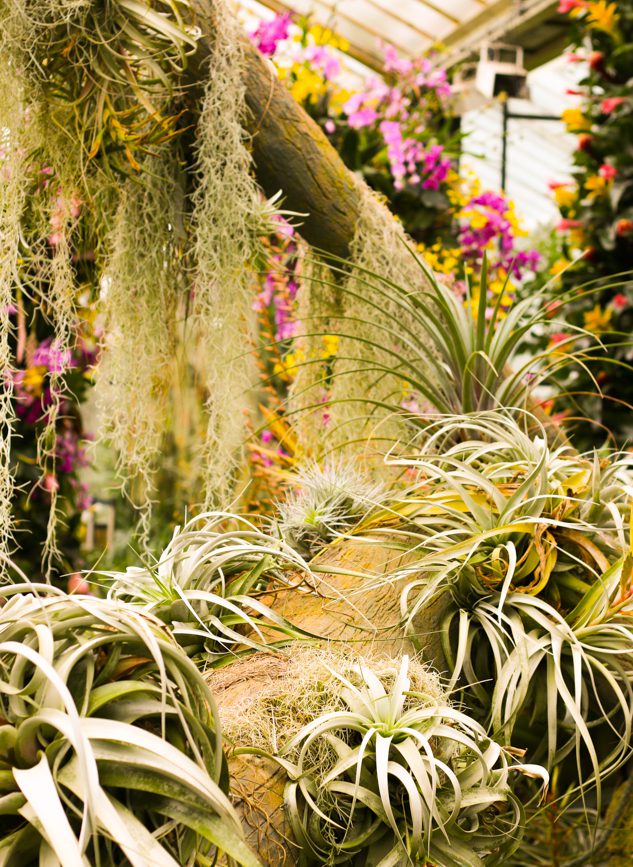 Cameroon's huge variety of flora and fauna are supported by a wide range of habitats, from lush rainforests and volcanic mountains to arid desert plains. The Kew Orchid Festivals displays showcased throughout the unique climate zones of Princess of Wales Conservatory will reflect those varied habitats.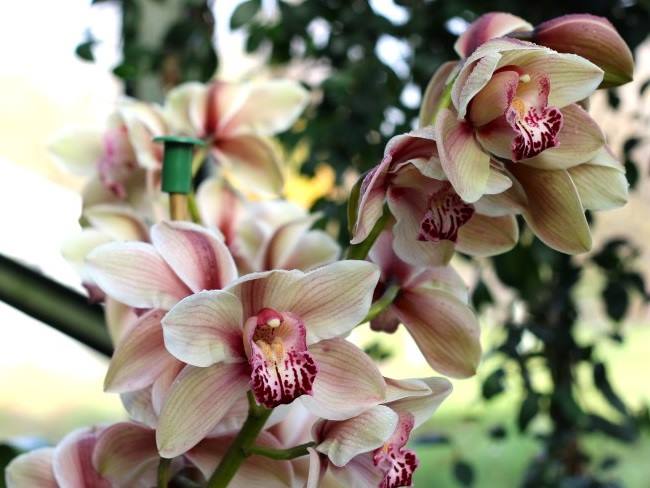 With around 26,000 species, the orchid family (Orchidaceae) is one of the two largest and most diverse groups of flowering plants. Orchids live on every continent, except Antarctica, and grow in almost every type of habitat, from coastal tropics to alpine meadows.
Orchids 2023 – Cameroon
One of the most biodiverse countries in tropical Africa, Cameroon can support many orchid species, close to 450.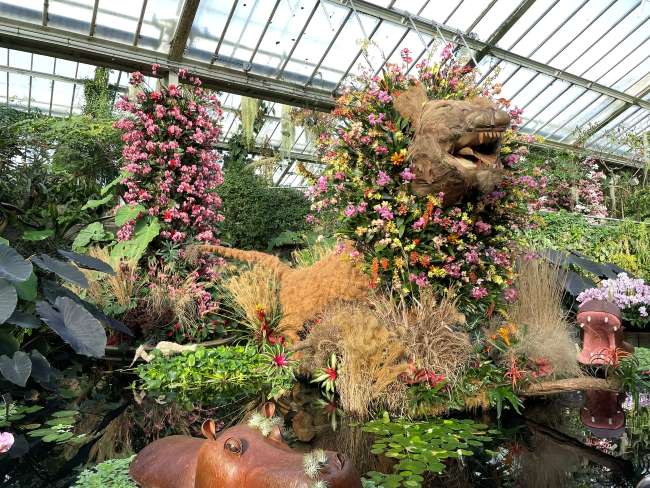 Cameroon is home to some of the world's most delicate and threatened orchids – some so rare their locations must be kept secret for their protection.
Make sure to visit the central display at the glasshouse for the chance to see some of the Cameroonian orchids that are cared for at Kew Gardens.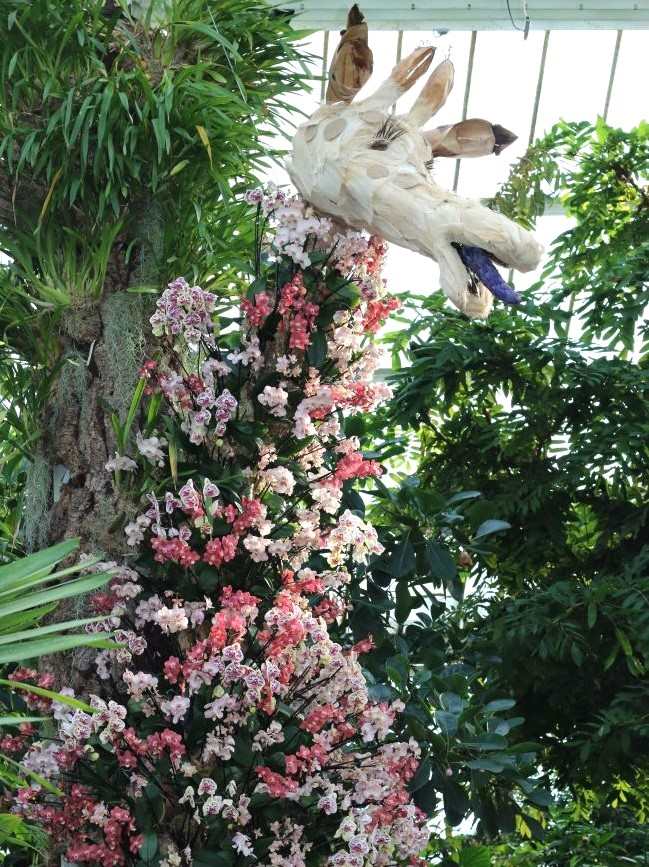 At the 2023 Kew Orchids, the team of expert horticulturists have hand-crafted amazing sculptures of giraffes, gorillas and lions from an array of real, colourful orchids and plants.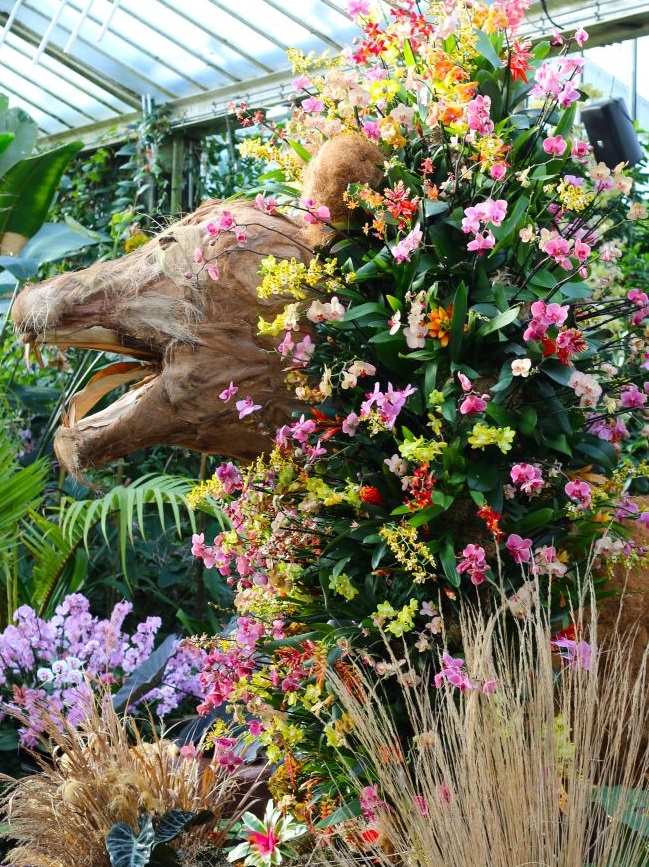 Keep up to date with the latest news on the 2023 Orchid Festival, inspired by the beauty of Cameroon, and book your Orchids timeslot and Gardens tickets on the Kew Gardens website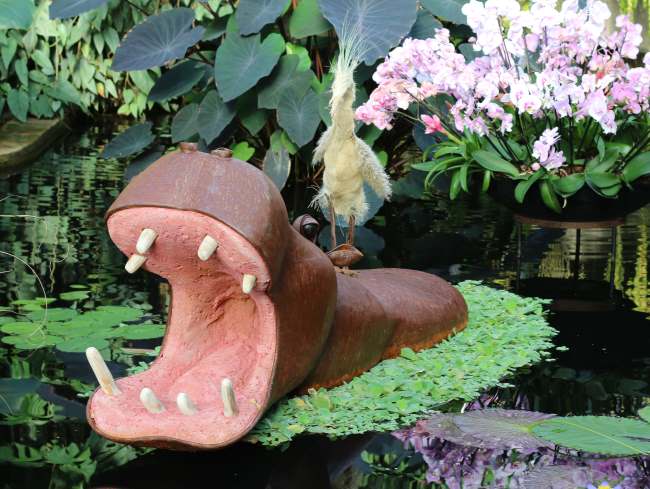 Here's a look back at previous Kew Orchid Festivals that paid homage to the biodiversity of Indonesia (2020), Colombia (2019) and Thailand (2018).
Orchids 2020 – Indonesia
The 2020 Kew Orchid Festival paid homage to Indonesia, with dazzling, colorful displays inspired by the country's wildlife and plant diversity. The horticultural team created amazing life-sized animals – orangutans, a tiger and a rhinoceros – decorated with hundreds of tropical flowers.
Indonesia's landscape is as diverse as the flora and fauna that inhabit it, from tropical rainforests to spectacular volcanoes
An erupting volcano created from orchids formed a dramatic central pond display, representing Indonesia's unique landscape, that includes over 100 active volcanoes across its archipelago of more than 17500 islands.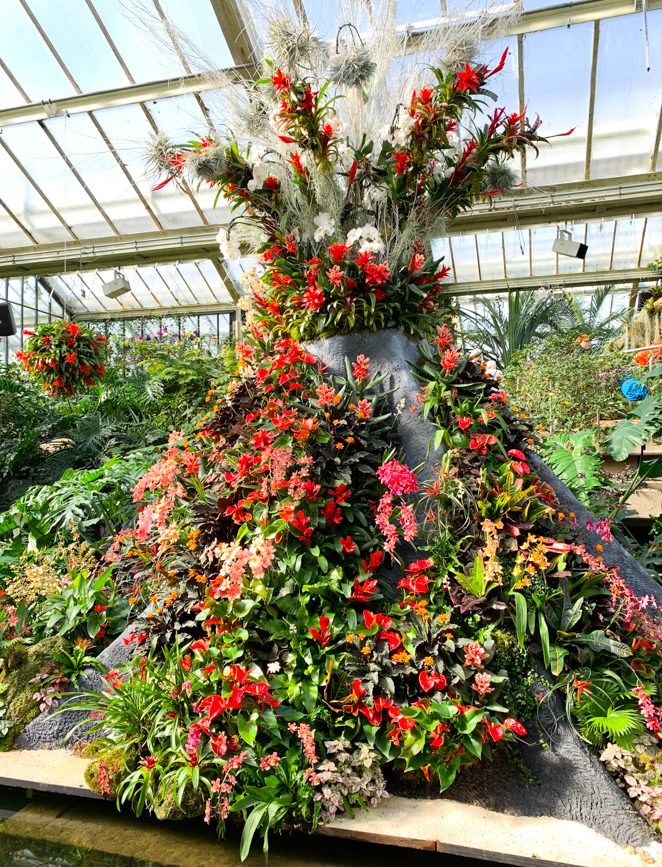 The event also showcased Kew Gardens' vital science work in Indonesia to protect biodiversity. Indonesia is home to over 4000 species of orchid, as well as a number of other native plants to the region.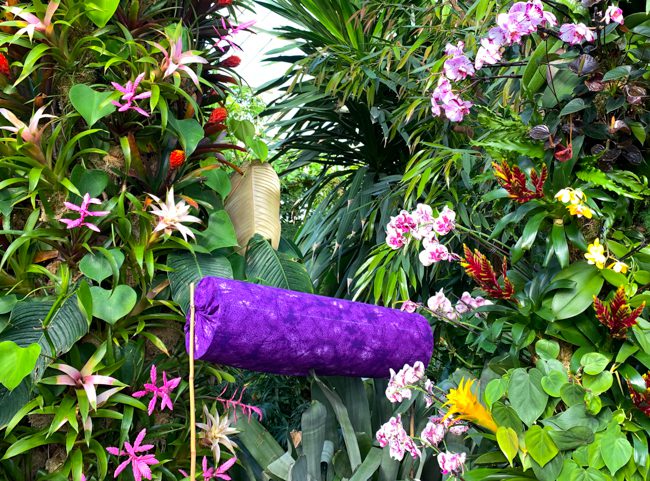 Orchids 2019 – Colombia
For the 2019 Kew Orchid Festival, Kew Gardens focused on Colombia, a biodiversity hotspot thanks to its geographical location and varied topography and home of more orchid species than any other country – over 4,200 at last count.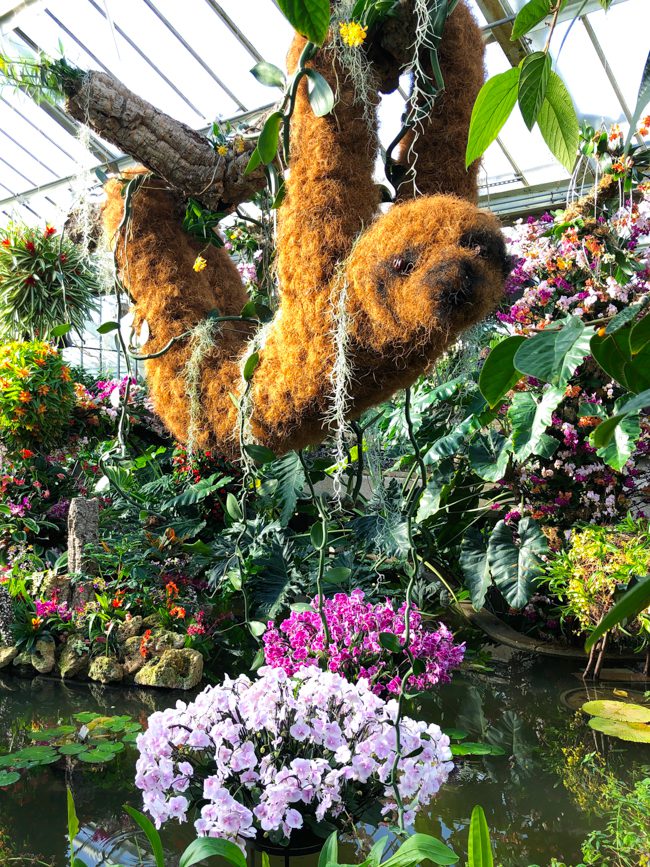 To celebrate Colombia's wildlife biodiversity, the central display of the festival was a 'carnival of animals' depicting a toucan in flight, a hanging sloth and swimming turtle, all composed of stunning orchids, bromeliads and other tropical plants.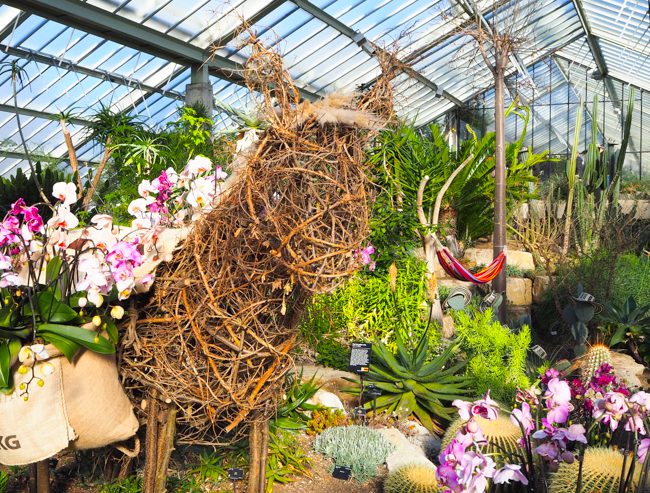 I loved the fun details in the cacti garden!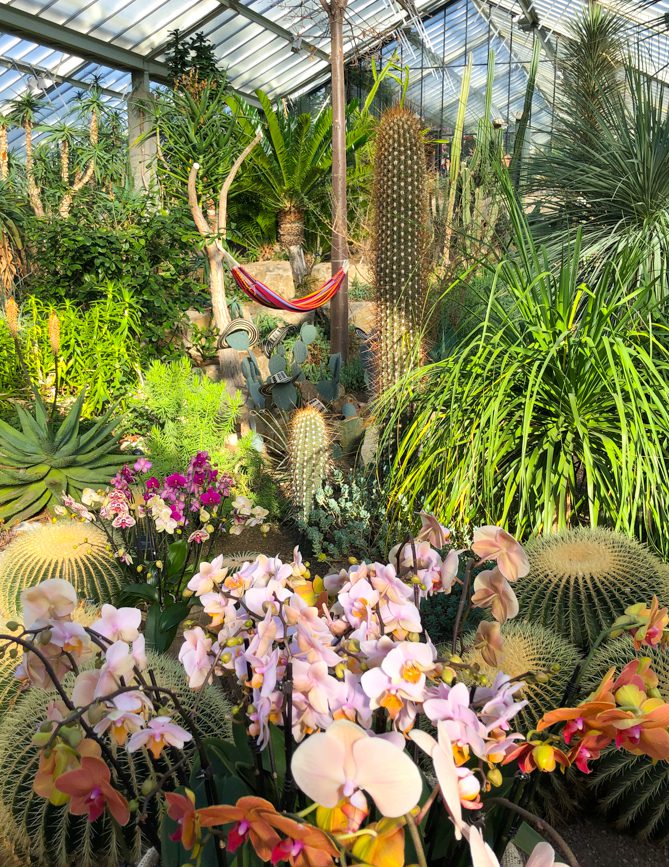 Over 6,200 orchids featured in the 2019 festival including the exquisite Flor de Mayo (Cattleya trianae), Colombia's national flower.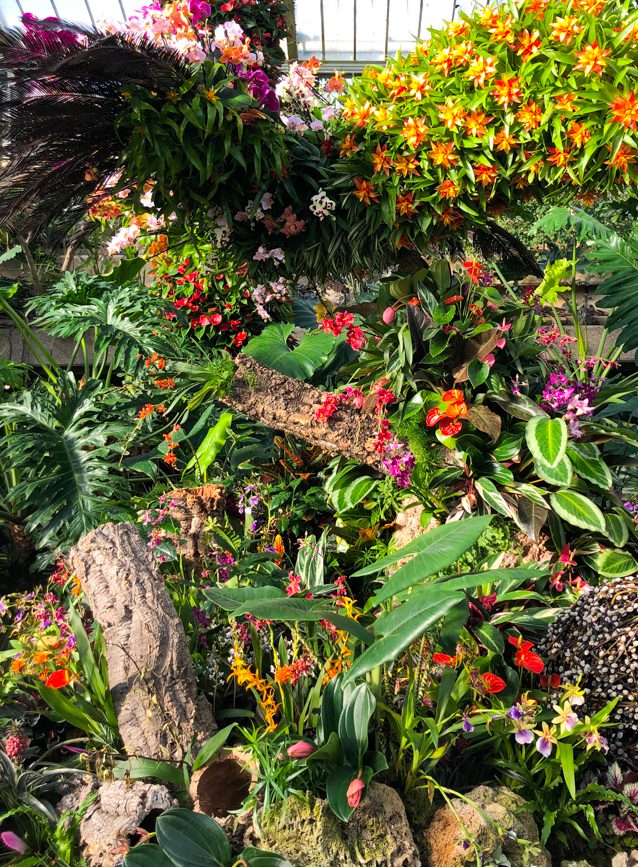 A breath-taking cascade of hundreds of colourful hanging vandas represented Colombia's famous rainbow river, Caño Cristales, and created an enchanting forest scene complete with life-sized jaguars constructed from moss.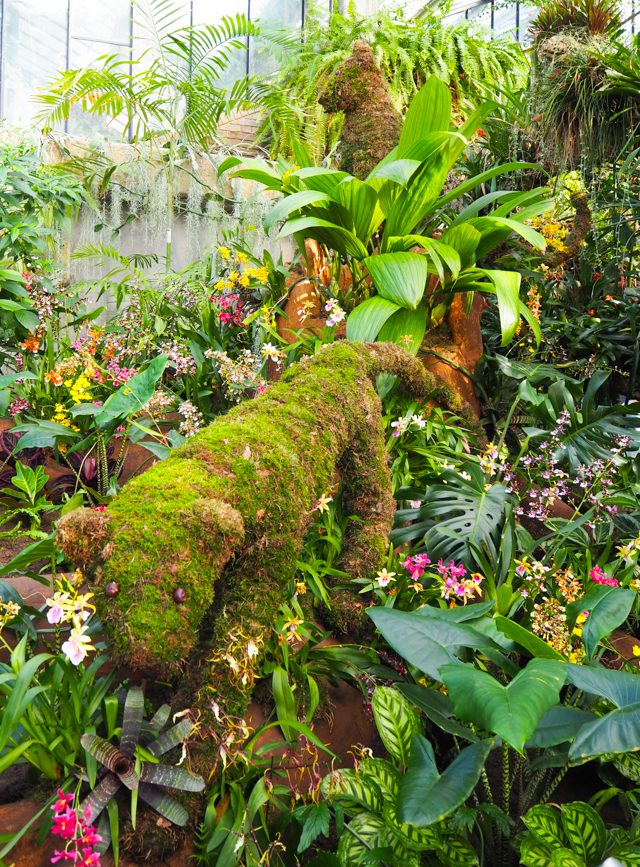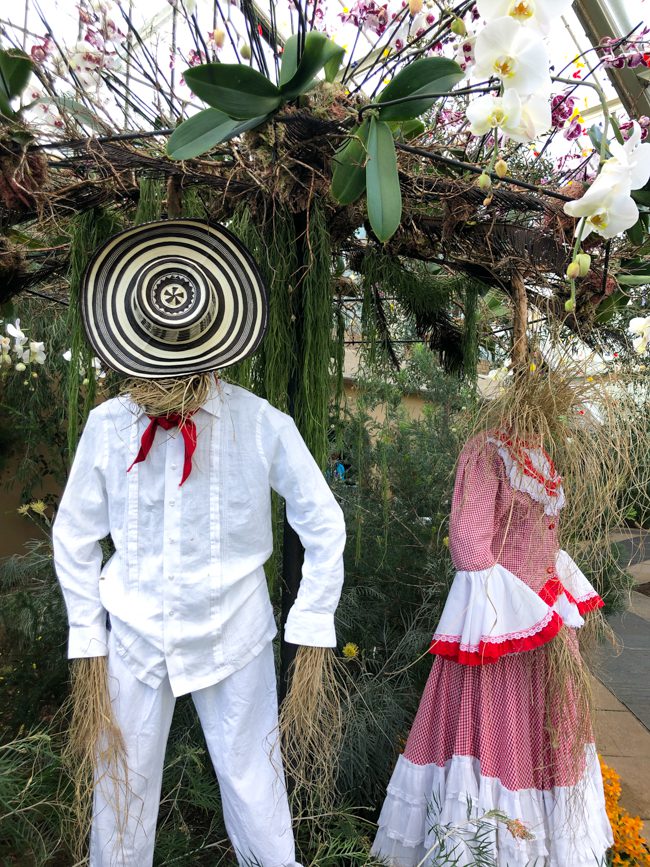 Working with their Colombian counterparts, Kew's scientists are undertaking intrepid field trips to discover new plants, aid conservation efforts, and promote sustainable development in the country.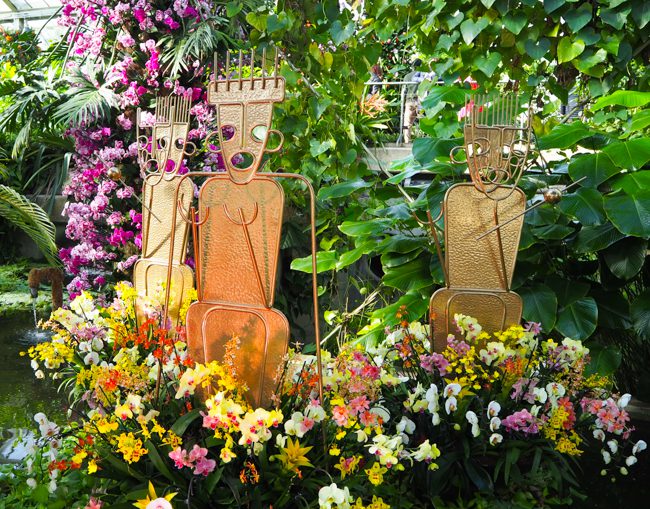 Orchids 2018 – Thailand
Thailand is home to 1,100 species of orchids. Botanists have been naming and describing orchids for more than 250 years and Kew is a world leader in this field. Many orchids have important medicinal properties as well as being revered globally for their delicate beauty.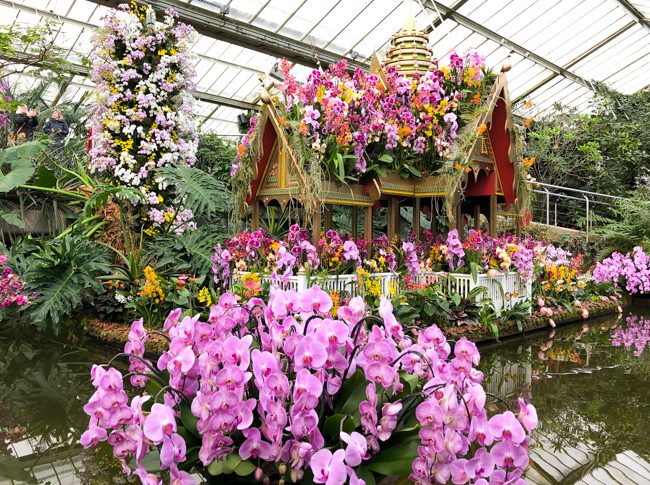 Every year, the talented horticultural teams create colourful floral displays throughout the tropical glasshouse, including beautiful arches delicately covered with hanging orchids.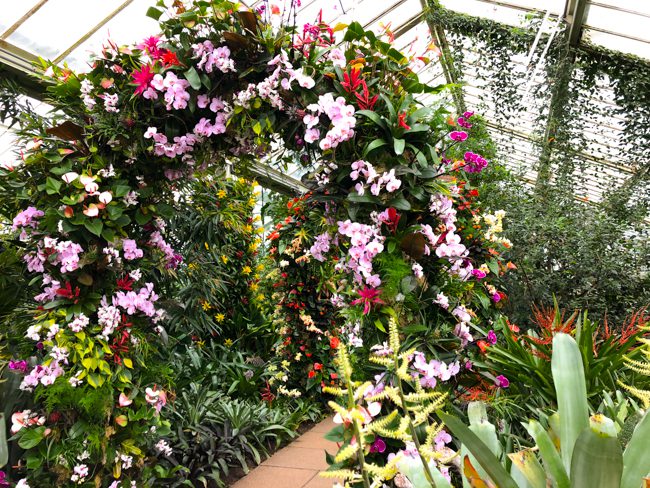 Beautifully handcrafted floating Thai umbrellas and vibrant tapestries decorated the cacti garden.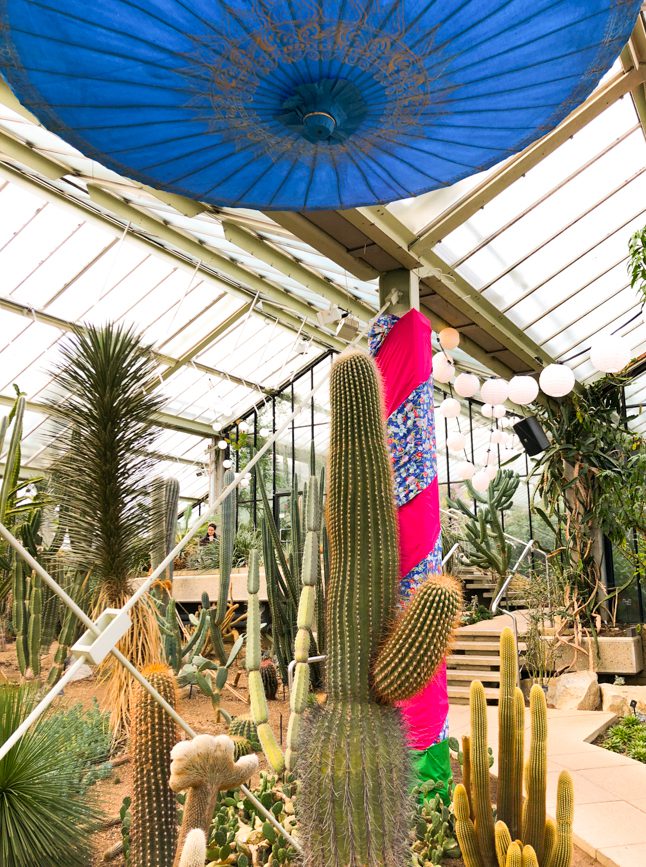 And, in addition to the stunning floral displays and tunnels, there was a giant water dragon constructed from moss…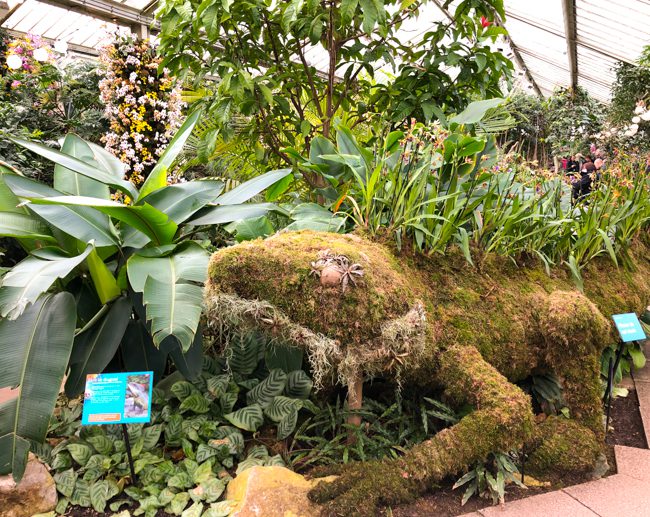 … and a special cart on loan from the Royal Thai Embassy in London.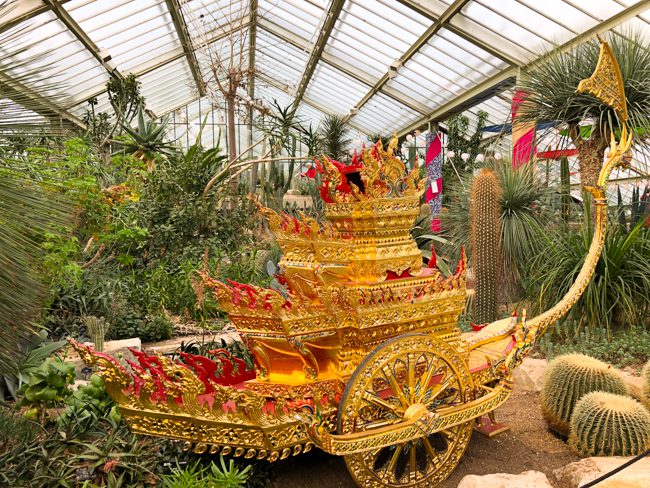 I hope you enjoyed that look back at the previous Kew Gardens Orchid Festivals celebrating the biodiversity of Thailand (2018), Colombia (2019) and Indonesia (2020).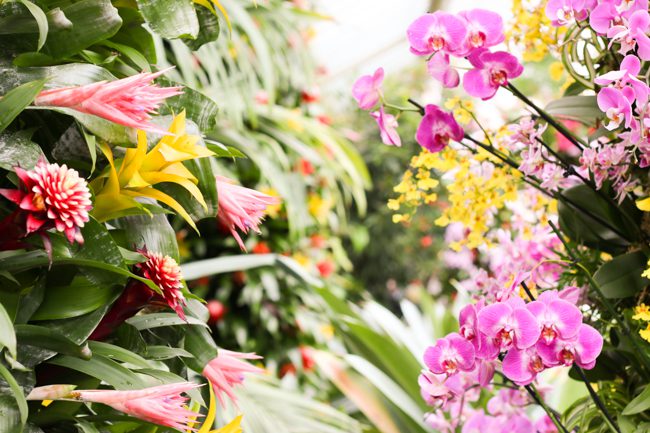 Kew Gardens by Season
Since there is always something new and unique to see throughout the year, I have been sharing advice on what to do and where to go when visiting Kew Gardens by season. Read on for more photos and information on visiting the Royal Botanical Gardens at Kew during other times of the year;
Children's Garden at Kew Gardens
Kew Gardens Orchid Festival
Address: Royal Botanic Gardens, Kew, Richmond, Surrey TW8 3AB
Opening Hours: Until 31 January 2023: 10am to 4pm (last entry 3pm); 1 to 28 February 2023: 10am to 5pm (last entry 4pm); 1 to 31 March 2023: 10am to 6pm (last entry 5pm)
Tickets: Off-peak prices until 31 January 2023 are £13.50 for adults and £4 for children 4+. Free for under 4s. Book in advance for reduced price £11 for adults
Peak prices from 1 February to 31 October 2023 are £20.50 for adults and £5 for children 4+. Free for under 4s. Book in advance for reduced price £15 for adults 
Closest Tube Station: Kew Gardens [District – Richmond branch and Overground services]
Parking: There is some Pay & Display parking on Kew Green in front of Elizabeth Gate. The Kew Gardens car park at Brentford Gate costs £7.00 for the day (TW8 3AF) and is accessed by Ferry Lane, a narrow turning off Kew Green. You can now pay for parking at this car park through RingGo. More details about getting to Kew Gardens here.
This post was updated on 10 February 2023 with new photos from the Kew Orchid Festival 2023 celebrating Cameroon.
PIN IT FOR LATER – Kew Orchid Festival 2023