Kensington Gardens is one of London's eight Royal Parks and, across its 265 acres to explore, you'll find Kensington Palace, the Italian Gardens, Albert Memorial, Peter Pan Statue, the Diana, Princess of Wales Memorial Playground and the Serpentine Galleries. Kensington Gardens is centrally located, close to Kensington, Bayswater, Notting Hill and Lancaster Gate, and a wonderful place to visit year round.
We used to live in Kensington and regularly go back to the area (we're only about 15 minutes away) for our favorite restaurants and shops, usually wrapping up our day out there bringing Little T to the fantastic Diana Memorial Playground. On a crisp day in mid-March, Little T and I headed over to explore Kensington Gardens, where we found beautiful blossom trees, visited the Italian Gardens and, of course, made a stop at the playground.
Kensington Gardens
We had lunch at the Royal China on Queensway (an old favorite – great food and very family-friendly) then headed into the gardens, walking towards the Italian Gardens that are in front of Lancaster Gate. Very near the Italian Gardens, we found a couple of beautiful blossom trees in bloom.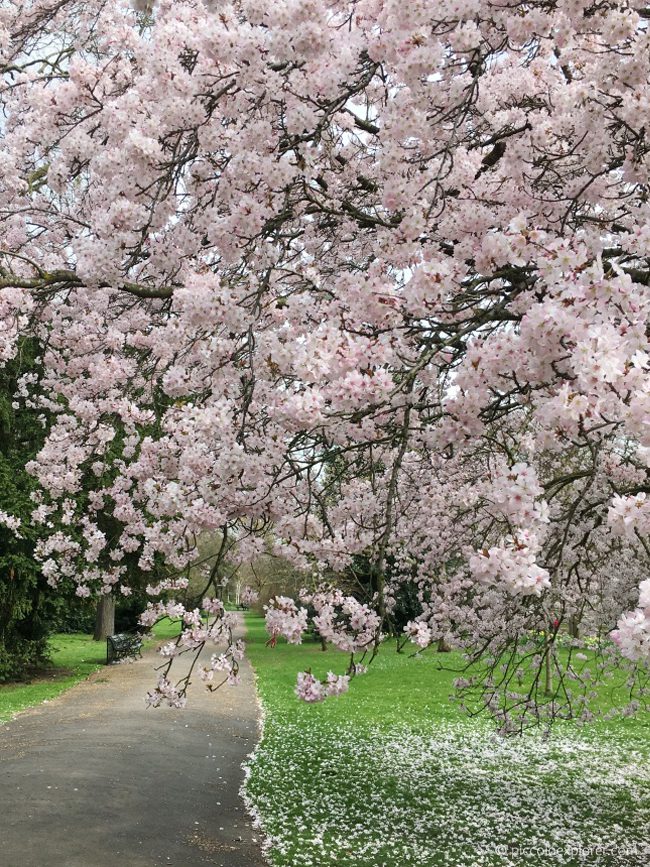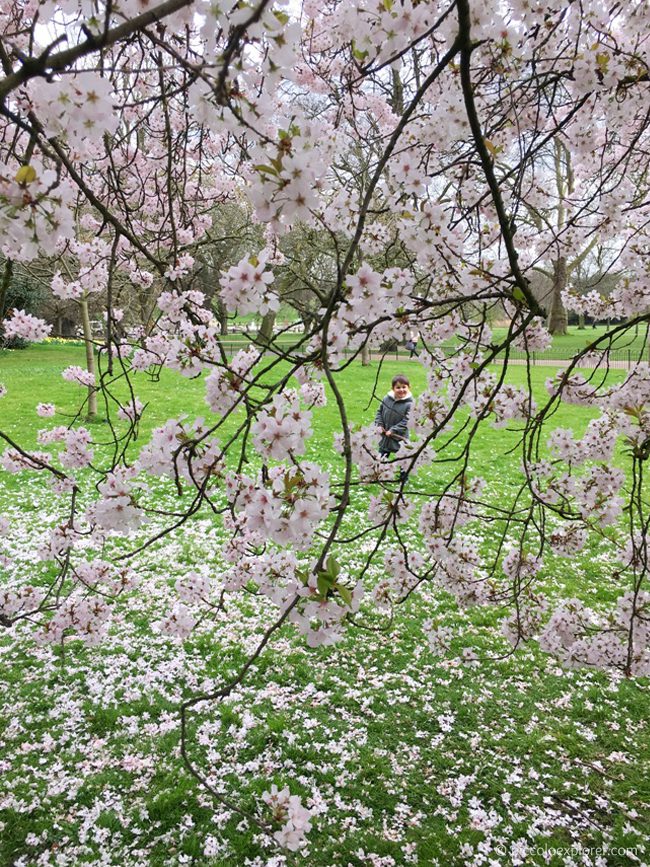 Nearby was a magnolia tree – my favorite to see in bloom around London, along the city streets and in the parks. Little T headed straight to this one for some climbing!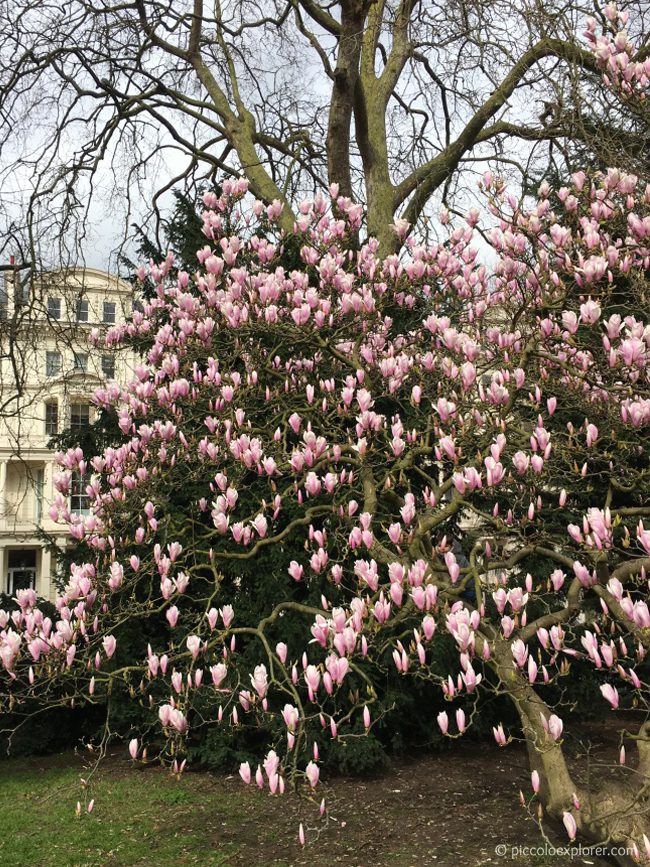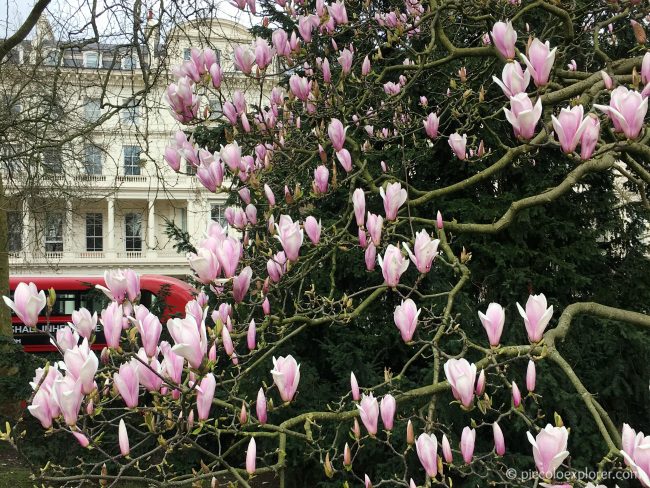 Also in the same area, we found some trees that made for great dens to explore…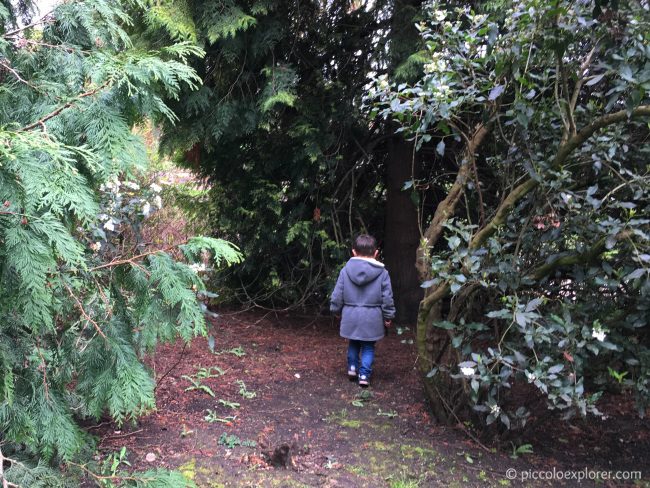 … and a curious squirrel that was very interested in whatever Little T was snacking on at the time…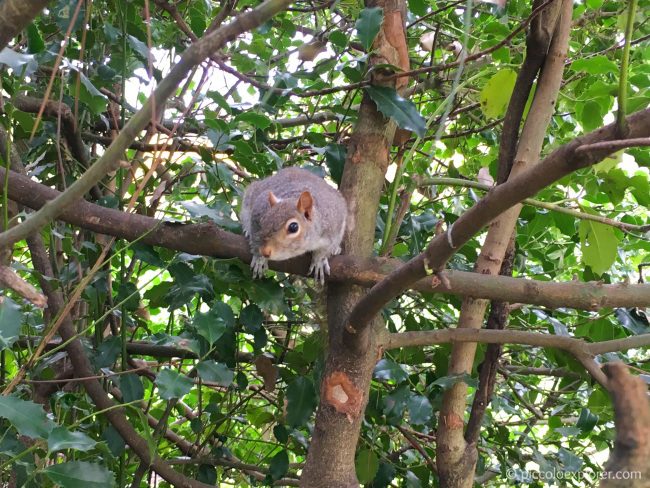 … and some of the beautiful yellow daffodils that were brightening up London's parks in March.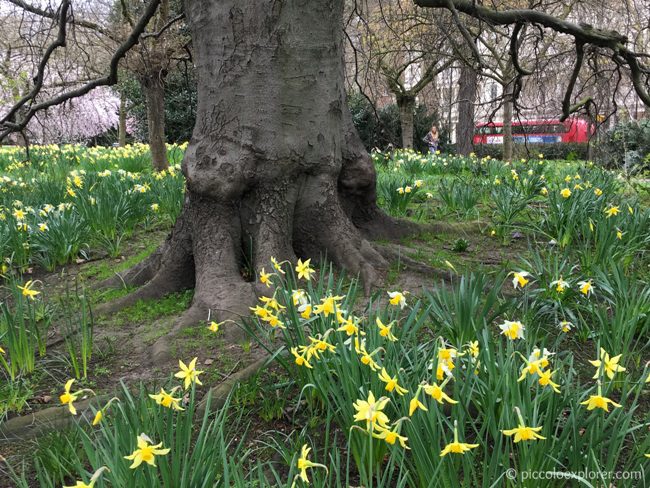 Italian Gardens
Our next stop was the Italian Gardens, in front of Lancaster Gate, which is a Grade II listed ornamental water garden built in 1860 and believed to have been created as a gift from Prince Albert to Queen Victoria.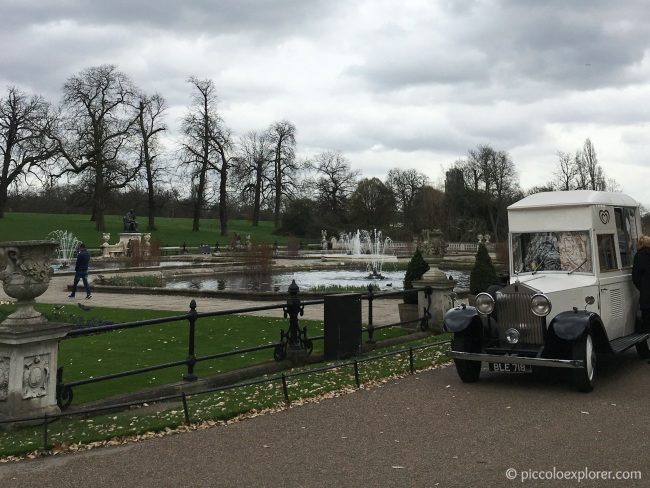 The Italian Gardens consist of four main basins with central rosettes, all carved in Carrara marble and surrounded by carved stone statues and urns. The urns have five main designs – the Swan's breast, woman's head, ram's head, dolphin and oval.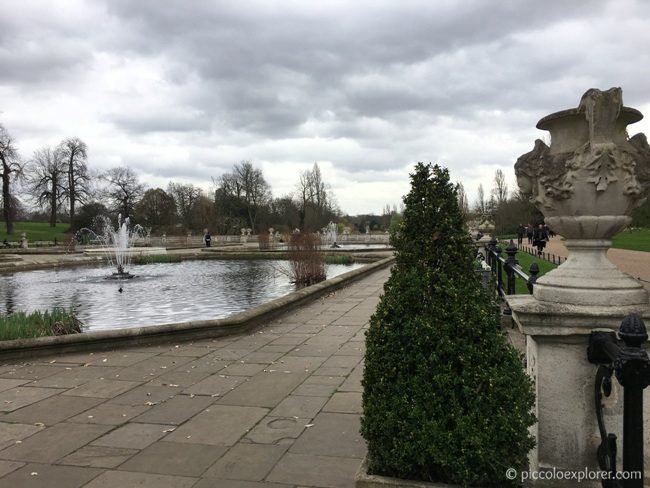 The Tazza Fountain – made with Portland stone and white marble – is located at the head of the Long Water, the river that runs through Kensington Gardens into Hyde Park, where it becomes The Serpentine.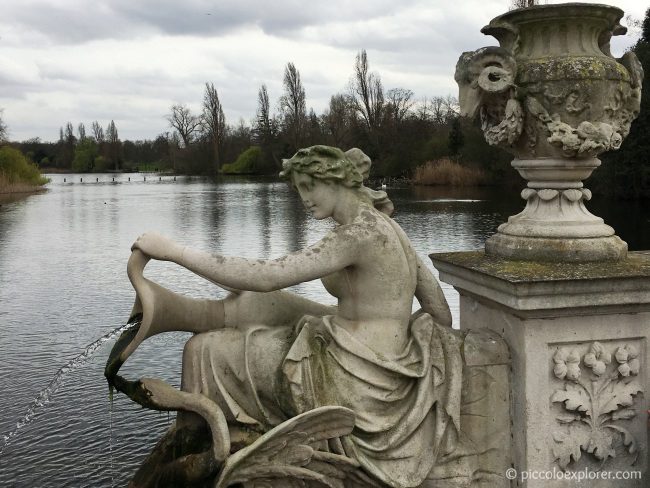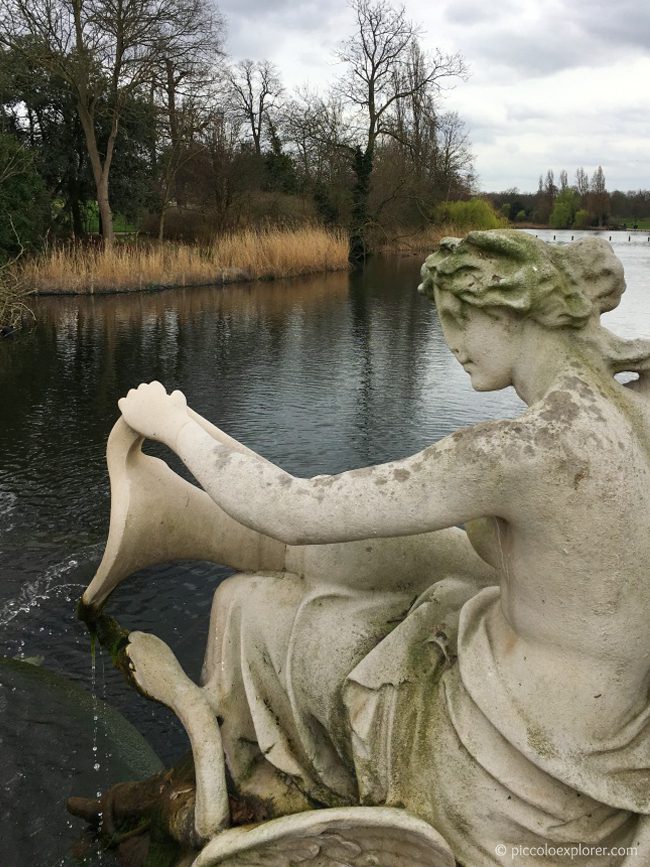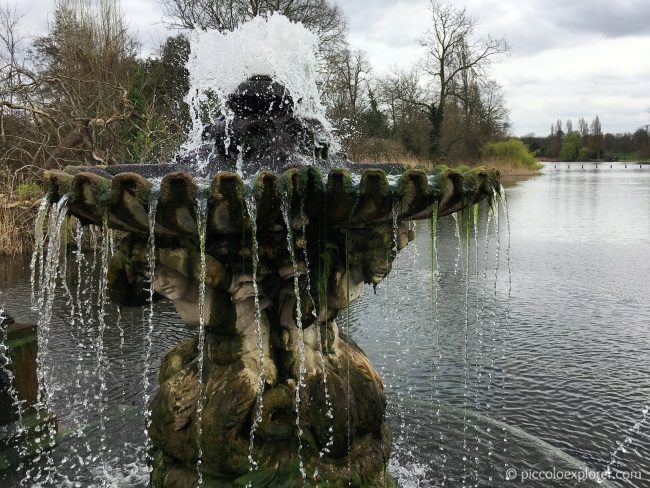 Princess Diana Memorial Playground
We headed back towards the Bayswater gate to the Diana, Princess of Wales Memorial Playground. Located next to Princess Diana's Kensington Palace home, the playground was created by the Diana Memorial Fund and is open to children 12 and under. Inspired by the stories of Peter Pan, the playground features plenty of creative touches throughout, with play sculptures, a trio of teepees, tree-houses and little pathways tucked away in the greenery for children to explore.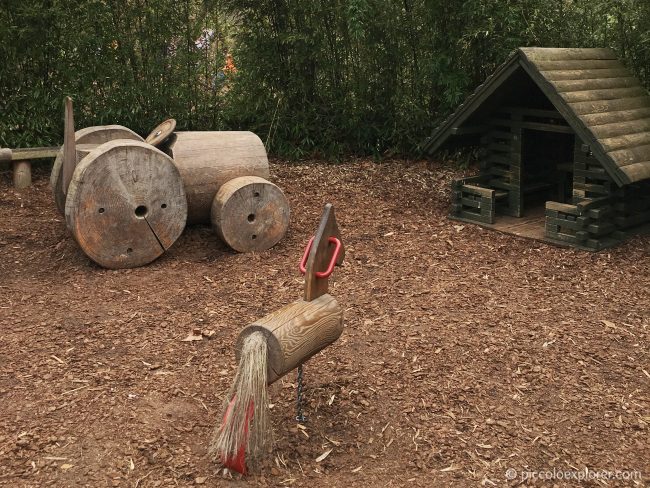 Little T had a blast running around the playground with friends…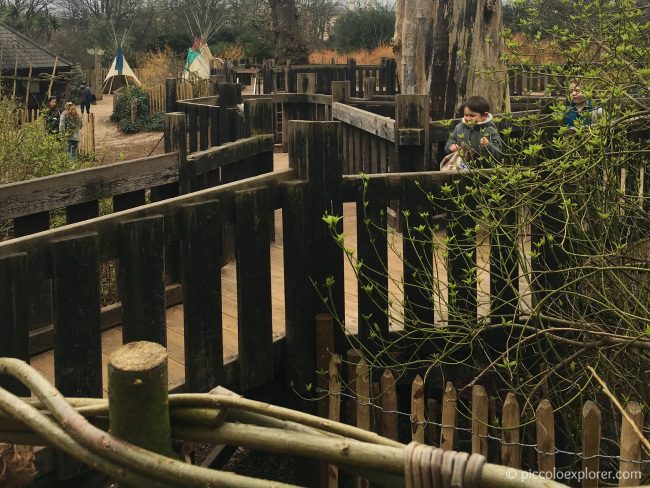 and playing at the wonderful wooden pirate ship, until it started to drizzle and was time for us to make our way home. For more photos and details on the playground, have a look at my Princess Diana Memorial Playground review.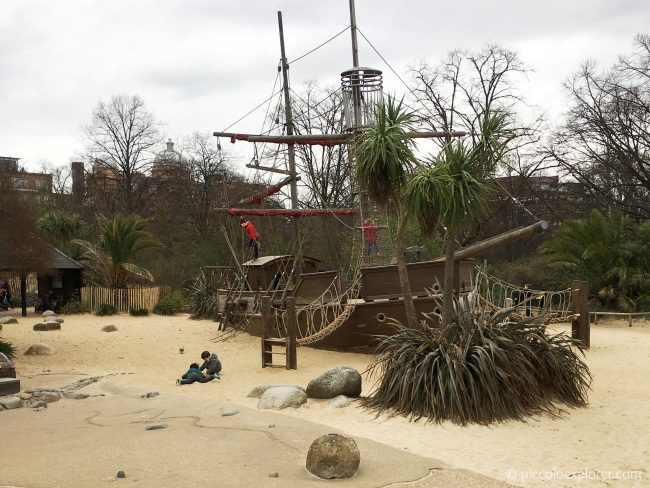 It was a somewhat crisp and grey day, but as always we enjoyed exploring the beautiful Kensington Gardens, one of our favorite places in London. The blossom trees were looking beautiful and Little T loved wandering around the park and spending some time at the playground.
Kensington Gardens
Address: Kensington Gardens, London W2 2UH
Opening Hours: 6am to dusk all year round (check website for current closing time)
Closest Tube Stations: Lancaster Gate [Central line], Queensway [Central line], Bayswater [Circle and District lines], High Street Kensington [Circle and District Lines]
https://www.royalparks.org.uk/parks/kensington-gardens
Save
Save
Save
Save
Save
Save